Spring time is a particularly exciting time for Travis Cuvelier as it is the time for baseball season, playoff hockey, and the NBA Finals. Below, Travis Cuvelier discusses this year's conference finals as well as his predictions for whats to come in the NBA Finals.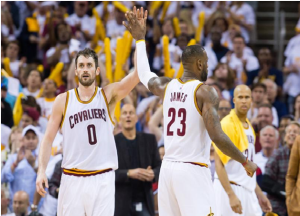 The NBA's Final Four tipped off almost a week ago. These four teams are trying to win four games in the Conference Finals to advance to this year's NBA Finals. So far, it has been a tale of two series. In the Eastern Conference Finals, the Cavs have dominated the Toronto Raptors by an average of 50 points in the first two games as they enjoy a 10-0 record in these 2016 NBA Playoffs. The Big 3 of LeBron James, Kyrie Irving and Kevin Love have been red hot. But as The Big 3 has been hot, the Cavs bench has also been performing well. In the Western Conference, it has been a drag-out brawl between the Golden State Warriors and the Oklahoma City Thunder.
In Game 1, the Thunder threw the first punch with a comeback win. In Game 2, the Warriors countered with a huge uppercut with a dominating bounce back win. Kevin Durant and Russell Westbrook have brought their superstar forms in this series. Steph Curry seems to be returning to his uniramous MVP form so far in this series. But, in the first two games whichever roles players or benches step up have won both games. In Game 1, players such as Steve Adams, Dion Waters, Enas Kanter stepped up to bring home the victory for the Thunder. In Game 2, players such as Andre Iguodala, Harrison Barnes and Mareese Spieghts stepped their game and delivered for the Warriors in their victory. And, I think that's what it will come down to for the remainder of this series: which role players/benches will step up.
The Cavs will have to battle through the Raptors physical play as the series shifts to Canada. They tried to get a little chippy at the end of Game 2 as the Raptors were down by as many as 17. So, the Cavs will try to find a way to get themselves closer to The NBA Finals for the second year in a row.
Here is what Travis Cuvelier predicts for the remainders of the Conference Finals:
East: Cavs in 5
West: Thunder in 6
For more sports related news and topics, follow Travis Cuvelier on Tumblr: http://traviscuvelier.tumblr.com/.